January is National Personal Self Defense Awareness Month and there's no better time to discuss and be aware of different ways that we can protect ourselves from predators. Unfortunately, this is a growing concern these days. Thanks to social media and other news outlets, not a day that goes by that I don't read or hear about an instance involving someone being approached, threatened or captured by a predator. Although children are often the victims of such crimes, it happens to adults as well. The scary part is that it's not limited to large metropolitan areas, it's happening in rural areas too.
I live in Central Texas, in a small, rural community but fairly close to a well known college town and within driving distance of a major city. Just over the past few months there have been numerous situations reported that involved someone attempting to kidnap or lure someone into a vehicle. All of these instances are suspicious and frightening to me as human trafficking has become such a huge issue in our country.
There are certain things we can do to help prevent some of these crimes and to protect ourselves from those who may threaten our safety. SABRE – the #1 pepper spray trusted by police and consumers worldwide ~ is dedicated to educating citizens the importance of realistic self-defense options.
Unfortunately, no matter how proactive you are, there's still a chance of a worst-case scenario – which is why it's so important to have a self-defense tool on hand. SABRE has a product for every lifestyle. Browse the wide selection of products, including the 
Quick Release Key Ring
, 
Pen Pepper Spray
, and 
Lipstick Pepper Spray
 models.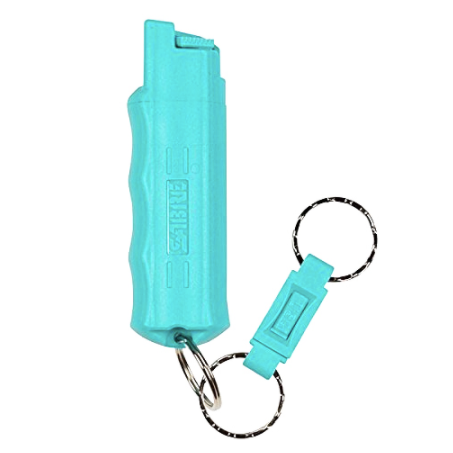 Top Five Reasons to Carry Pepper Spray:
1. Protection at a safe distance—why go hands on?
2. Very practical—protection against multiple threats
3. Convenient—legal to carry in all 50 states
4. Ideal for everyone—doesn't require size or strength to use*
5. Proven effective—police worldwide carry pepper spray
For those too young to carry pepper spray, SABRE personal alarms are another powerful safety option. A handheld personal security alarm is like a security system for your body. Comparable to keeping an alarm in your house to warn against would-be intruders, you can keep this personal body alarm on hand to use when you need urgent help.
Extremely loud: Alarms can be heard up to 1,000 feet (300 m) away
Most user-friendly: Sleek, modern, and compact design makes alarms easy to carry with key ring, wrist strap, and clip options
Broad consumer appeal: A personal safety option for any age!
I, for one, am thankful for products such as those offered by SABRE. Anything we can do to protect ourselves and those we love is always welcome!