Give the gift of

Puppy Love

for

Valentine's Day

!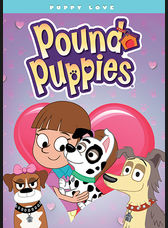 Cute and adorable...just two words to describe the Pound Puppies! My sons have always loved watching the pups in all of their mishaps and adventures and this one is extra special because it's just in time for
Valentine's Day
and would make the perfect gift for your little one!
Recently released, on February 3rd, Lucky, Cookie, Niblet Strudel and Squirt continue their mission to find a person for every pup with the release of Pound Puppies: Puppy Love on DVD.
Every boy and girl should know the undying love of a puppy and in this special episode, that's exactly what the Pound Puppies are for! "A pup for every person and a person for every pup!" That's their motto and they sure do mean it! Join the fearless leader, Lucky and his crew as they make it their mission to find homes for lonely dogs ~ and dogs for lonely humans!
As an added bonus, Pound Puppies: Puppy Love, comes complete with your very own printable Valentine that you can share with your favorite pet or human!
Disclosure: I received the above product for review purposes, however, all opinions are entirely my own.