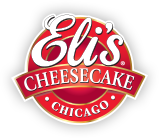 I can honestly say that no matter if it's
Valentine's Day
, Mother's Day or just a normal day in the month of January, I'm up for a great tasting Cheesecake. Cheesecake is one of those things in life that can make a bad day great or cause you to forget that you wanted to start dieting...it's just that good!
I received a
Double Chocolate Cheesecake
for review from
Eli's Cheesecake
and even my two sons were eager to break it open. This Cheesecake is sooooooooooo good! Words can't really describe just how divine this dessert really is, but here's the description:
"A thick slab of rich fudge brownie made with Ghirardelli Cocoa topped with a layer of smooth and creamy chocolate cheesecake made with Ghirardelli Chocolate. Hand-piped chocolate mousse and a dusting of more Ghirardelli Cocoa make this a symphony of chocolatey tastes and textures."
Eli's Cheesecake has discovered a way to not only satisfy our Cheesecake craving and craving of other decatant desserts, but also a way to give back to the community by supporting local farmers and small businesses. "Charity will never bust you" is the motto of the founder of Eli's Cheesecake and with that this company continues to give back whenever possible.
Eli's has been one of Chicago's most iconic brands since the 1980's, offering a wide variety of signature cheesecakes. They have been featured on the Food Network, the Jay Leno Show and several other national broadcasts. Additionally, they have created the honorary cheesecake for Presidential inaugurantions, Chicago's Birthday and countless other events in the Chicago area. Wow!
Very impressive if you ask me.
In the spirit of
Valentine's Day
and our mission to spread love, happiness and awesome Cheesecake, we want to give one AWESOME reader their very own
Eli's Cheesecake
. Simply enter on the Rafflecopter form below...Good Luck!
Visit the
Eli's Cheesecake
website to order your own irresistible Cheesecake or other dessert!
Disclosure: I received the above product for review purposes, however, all opinions are entirely my own.
a Rafflecopter giveaway