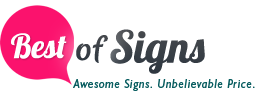 Do you have a business that you want to promote locally?
Car Window Decal!
I not only have my review blog, but I am also an Independent Younique Presenter and getting the word out about my new venture is crucial for success. One of the ways that I chose to promote my new business is by advertising on my vehicle.
I found a great company to work with for review products called Best of Signs. This company was able to produce a vinyl banner and a window decal using my own designs. The order process is super easy and the banner and decal turned out to be awesome!
My Banner!
I've received so many compliments on my window decal and it certainly does attract a lot of attention when I'm out and about. You never know when or where you will obtain a new customer, so if you have a venture of your own and want to get the word out...consider a car window decal or magnetic sign from
Best of Signs
!
Visit the
Best of Signs
website to get started with your advertising needs!
Get social with Best of Signs on
Facebook
,
Twitter
,
Pinterest
and
Google Plus
!
Disclosure: I received the above products for review purposes, however, all opinions are entirely my own.