So, you're single and have decided it's time to find that perfect match, but you don't really know where to begin looking. Maybe you're tired of hanging out a the clubs and bars, and you just want to meet someone in a more discreet, casual but fun way. If that definitely sounds like you, then there is an app that can help in your quest for love.
Hot or Not is absolutely the original sneak friendly app that allows the users to fine other single people in their area or vicinity without leaving your home, office or wherever you may be. This online dating app is compatible with iPhone or Android and can even be downloaded to your computer via Facebook.
Flirting is basically a very natural part of life, and when you're single, you have the opportunity to flirt with other singles and hope to make a real connection. Hot or Not let's you do just that with real people who are also looking for that same connection, but also want it to be discreet, easy and fun!
After downloading Hot or Not to your smartphone or computer, the app will show you pictures of other singles in your area and you can rate them on a "hot or not" scale. If you click on a picture of another user and they have rated you as "hot" also, both of you will be notified that there is a match. After that, it's up to you to make the actual connection or not. Again, everything is discreet and low-key...the app will never let another user know you think they are "hot" unless they think you are too!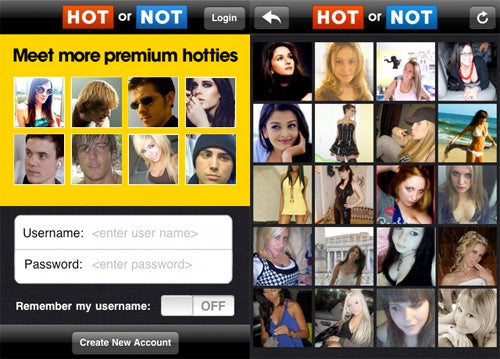 The Hot or Not App can also let you know just how HOT you are! Doesn't everyone secretly want to know? Of course we do...It feels great and is a huge self esteem builder to know that there are people out there that think we are hot. Now you can easily hang out with the hottest people online and chat, share and get to know them without going out of your comfort zone.
If you're ready to get out there and find that perfect connection, then now is the time to download Hot or Not to your smartphone or PC and begin your journey!
If you thought Hot or Not couldn't get any better, then just wait until you read this...Now you can enter to win $1000 to the retailer of your choice. Wow! Follow the link below to be entered!
$1000 Sweepstakes
Don't for get to get social with Hot or Not on Facebook to interact with other Hot or Not members and to be the first to know about new promotions, activities and more!