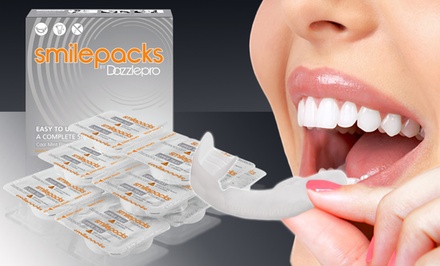 Do you wish your teeth were whiter? I know that in my family, we use whitening toothpaste daily in order to get those pearly whites.
I was sent the DazzlePro SmilePacks Teeth-Whitening Kit for review. This was a
seven day kit
, equipped with disposable, one-size-fits-all trays. All trays are pre-loaded with the latex and leak-free solution, so there's no messy gels or product to deal with.
For one week, I used the disposable trays for a short 30 minute session. The solution didn't taste bad, as it is a cool-mint flavor, so it leaves your mouth feeling really fresh. I began seeing a slight change in color on the fourth day, and by the end of the week, I did see a noticeable difference in the color of my teeth.
Product Features:
Disposable, one-size-fits-all trays for upper and lower teeth
Trays come pre-filled with measured latex-free & leak-free solution
Gentle, non-abrasive ingredients
Daily treatments last 20-45 minutes
Cool-mint flavor
Travel size packaging for treatments on the go
Results typically visible within 3 days
Overall, this kit is great for a quick whitening of your teeth.
That's just $19.50 each kit!
Disclosure: I received above product for review purposes, however, all opinions are entirely my own.