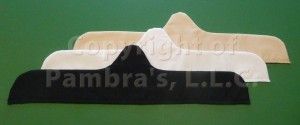 I was recently given the opportunity to review this unusual product. I have to say that I was intrigued by this bra liner and eager to try it out! I also gave one to my mother to try out so that I could get a second, unbiased opinion.
The
Pambra
Bra Liners are extremely comfortable and not at all bothersome. This product is not only great for absorbing perspiration, but also for that bra that we all own...you know, the one that we love, but the wire makes it unbearable to wear for too long? This product is a cure for both problems.
I can honestly say that there is not even one negative aspect about the
Pambra
Bra Liner. I would definitely recommend the bra liners to anyone who suffers from perspiration or any uncomfortable wire issues!
Disclaimer: I received free product for the purpose of reviewing it on this site. There was no monetary compensation and these opinions are my own.